HOKAY, KIDS
NOW WE'RE COOKING WITH GAS!!
Just wanted to update you all, since the last QR post has so many hits and I am having such a ding-dang good time creating more QR code art!
After the last post, I did a little more research into QR codes. I learned a few things. First, the margin of error in a QR code is about 10%. This is how some artists will put pictures and things in their QR codes--you should see the beautiful works out there! This also means that most stitched QR codes are fine with a normal cross-stitch; you get a reliable scan without having to outline all of the boxes.
Secondly, I researched the border that is recommended for QR code scanning. The actual border they recommend is a quarter of an inch. I've found that if I keep about 6 squares on my Aida cloth between my QR code and my border, everything still works out just fine and scans super reliably.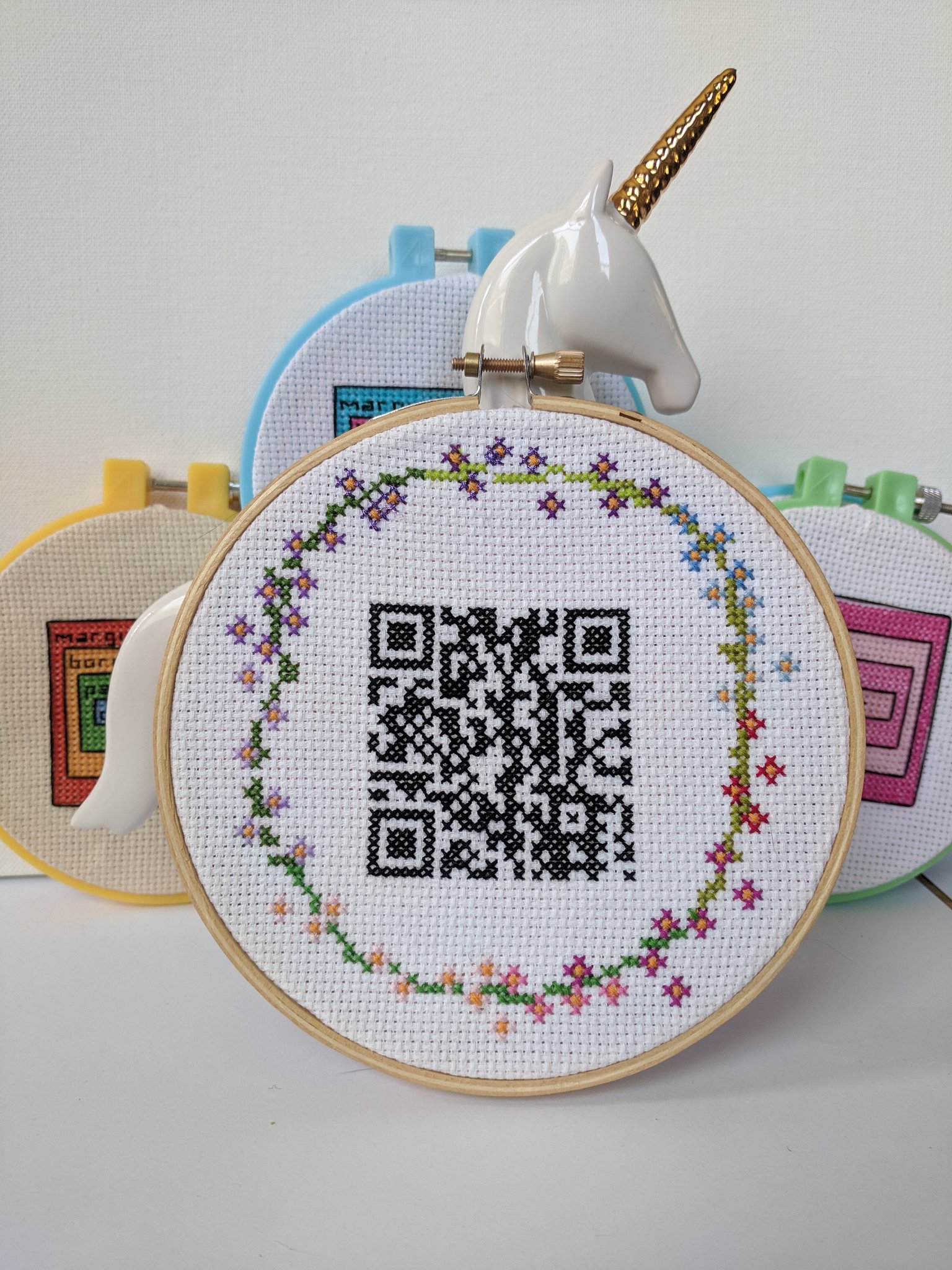 I have now made two more QR cross-stitches, and they are beautifully, can't-even-get-the-camera-near-it-without-a-scan reliable scans! The first one is a bit of advertising for myself: I made a QR code that scans to ellenwondra.com/qr-cross-stitch. I figure that if I have a custom landing page for my cross-stitch, I can always change what I put there if I want--don't need to worry about changing the final product in the future :)
note: sometimes the scans don't work perfectly reliably in photographs, and that's okay! :) they're very reliable in real life.
The second QR cross-stitch was a commission for a lovely techie on Twitter who wanted a QR code to sign on to the Wi-Fi. I was able to make one that also scans very reliably. I'm so pleased to say that I was able to resolve all of the issues I had in my initial attempts at QR cross-stitching.
I'm very excited about all the potential here, I'm not going to lie. I love the idea of having QR patches on my clothes, of putting this on my shop, of taking it around with me. I already took it with me when I busked at the Folklife Festival. I didn't really busk long enough to get any use out of it (only two songs, but that's a whole other issue), but I enjoyed having my art out as well, able to lead people to my paypal, ko-fi, and venmo as well in case they didn't have change or singles. True millennial busking.
Anyway. that's my update! QR cross-stitch is going absolutely great. Any of y'all making some of your own? Tell me about it in the comments!